Evolve has become the first Maltese science organisation to be honoured by the University of Malta.
A commemorative plaque honouring Evolve's contribution has been unveiled in the university's science faculty on the main campus in Msida.
Our passionate and talented team are proud to support the scientific and healthcare industries in Malta, contributing to several exciting research schemes, such as the high-profile Project Maleth which took Maltese science into space in 2021, through the University of Malta Research Innovation and Development Trust.
The plaque reads: 'With gratitude and appreciation to Evolve whose support and regular donations are instrumental in sustaining research by the EMRG to develop innovative medical devices.'
The EMRG, or Electromagnetics Research Group, is based in the Department of Physics, with contributing members from the Departments of Mathematics, Geosciences, Electronic Systems Engineering, Anatomy, Pathology, Surgery, Clinical Radiology and Nuclear Medicine as well as experts from the Hyperbaric Unit at Mater Dei Hospital.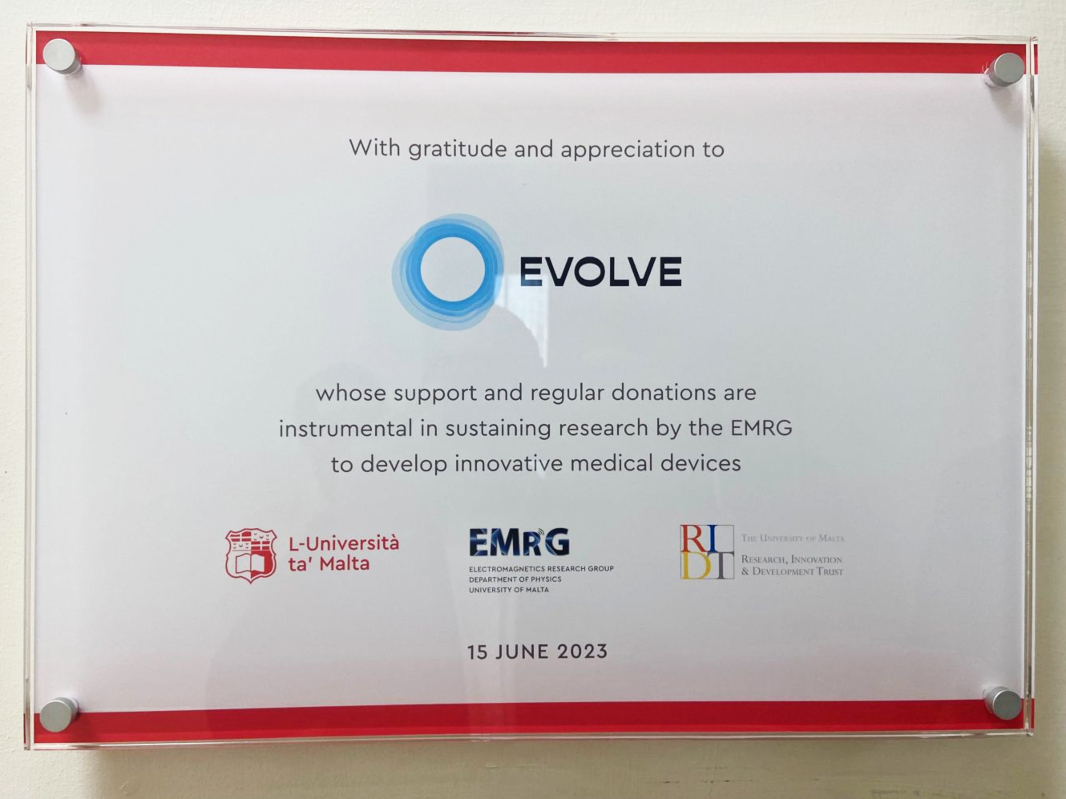 Evolve founder and Chief Visionary Officer Christopher Busuttil Delbridge said he was thrilled with the honour, almost 24 years on from his first graduation from the University of Malta.
He added: 'I was overwhelmed with emotion to unveil this commemorative plaque to my total surprise. Seeing our company name and logo on that signage gave me goosebumps.
'Thank you Professor Charles Sammut and all the team at the Electromagnetics Research Group Malta for this beautiful recognition. You made my day. A very rewarding moment. I am extremely grateful.'
Congratulations to everyone at Evolve.
More inspiration for you
We champion science potential so the people, businesses and communities we serve can thrive
Speak to the Evolve experts
With our team of experts in various science-led sectors, you can talk to us about products and planning for your business needs, and tap in to our knowledge.
We know that business thrives on access to expertise. At every level and at every stage you can access guidance from our fully qualified technicans and relationship managers. We take time to understand the vital impact your organisation makes, and to get to know the challenges you face to help you deliver more.
Is your science project going places?
Whether you're just starting out and you've got potential to grow quickly, you're already growing fast or you're thinking about scaling up, our services and solutions could get you there even faster.
We have a proven track record supporting the scientific, pharmaceutical, industrial and medical sectors, from schools, colleges and universities to hospitals, laboratories, oil rigs and museums.