If there's one thing we all remember from our school chemistry class, it's that certain chemicals can have potentially dangerous reactions when mixed together.
Chemical management is essential to the ongoing livelihood of your laboratory, warehouse or manufacturing facility. Without a proper chemical storage plan in place, you run the risk of toxic exposure to employees, catastrophic explosions, fires, and unfortunate casualties.
What are the guidelines for storing chemicals safely?
At Evolve, we understand that the safe use and storage of chemicals is crucial to the running of most modern scientific procedures. Thanks to many decades working as scientists in different lab conditions, we're well-suited to deliver the right solution for your chemical management needs.
We have consolidated good control practice and existing knowledge with additional information gained from our years of experience at Evolve, working with state hospitals in Malta, cement companies in Libya, pharmaceutical firms in Ghana, forensic crime labs in Dubai, public health authorities in Belgium and oil giants off the coast of Africa.
We can also help you carry out Control of Substances Hazardous to Health assessments, review existing assessments and deliver training in activities involving substances hazardous to health.
Olivera Mihova from Evolve's scientific and industrial department said: 'Following the simple guidelines listed below will get you well on the way to an efficient, organised, and safely operating laboratory. Ignore them, or become cavalier in their application, and you may be picking through ashes or rubble one day.
'Spend a few minutes going through the lab with this list on a regular basis, and you should avoid any major incidents with chemical storage. As always, safety first.'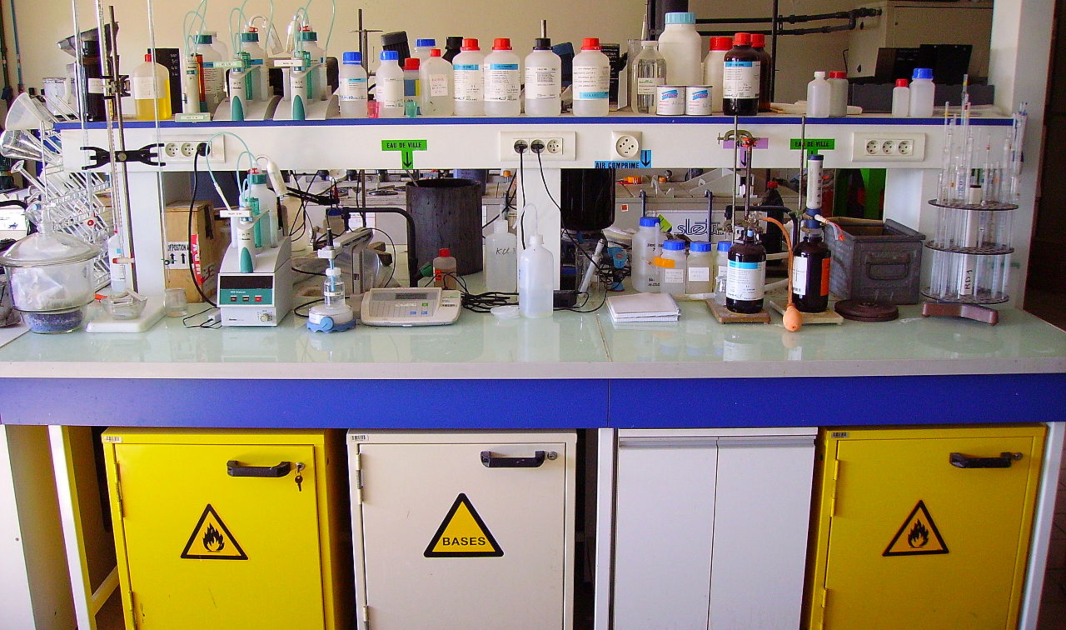 An effective chemical storage plan
Mixing and matching chemicals are never advised. Different chemicals have different storage requirements. There are several fundamentals in storing chemicals. These fundamentals are simple, and some much more obvious than others.
A few of the fundamentals are as follows:
Chemicals should be stored according to hazard class
ALL chemicals should be stored away from direct sunlight
ALL chemical containers should be labeled correctly, including the date received as well as the date upon opening
Hazardous chemicals should be stored below shoulder height of the shortest employee
Shelving should be covered with a chemical-resistant paint or coating
Shelving storage should NEVER exceed their weight limit
ALL employees should be aware of the hazards associated with all hazardous chemicals and materials
Solids and liquids should ALWAYS be separated
Inspect chemicals constantly
Remove any expired chemicals
Evolve is ready to work with you to create a complete health and safety policy for your chemical storage needs. In terms of actual storage, there are nine chemical groups that are associated with different risks which you should be aware of. In addition to the fundamentals, the way in which each chemical group is stored is considered best practices for chemical storage safety.
Group 1: Flammables and Combustibles
This group includes liquids with a flashpoint greater than 100 degrees Fahrenheit. The main concern here is to protect and prevent the ignition of flammable liquids. In order to protect them, they should be stored in a nonflammable cabinet or a nonflammable storage freezer or refrigerator.
Group 2: Volatile Poisons
This group includes poisons, toxins, and both known and suspected carcinogens. Anything with a strong odor or an evaporation rate greater than one will fall into this group.
The main concern here is to prevent any exposure or inhalation of the volatile poisons. In order to ensure prevention, they should be stored in a nonflammable cabinet or refrigerated containers of less than one liter.
Group 3: Oxidizing Acids
This group would include any acids containing anions with a higher oxidation potential than the standard potential of an H+ ion or proton. The most common example would be Nitric acid.
To store these chemicals safely, you must prevent contact with other oxidative acids and corrosives. This requires each chemical to be double-contained, with the primary container kept inside a canister. Then they must be stored in segregated safety cabinets.
In small quantities, two bottles or less, the oxidizing acids don't need to be segregated. The small quantities may also be stored with group four (organic and mineral acids), as long as they are put on the bottom shelves.
Group 4: Organic and Mineral Acids
Mineral acids refer to chemical combinations while organic acids refer to compounds consisting of carbon and hydrogen atoms. These need to be kept separate from bases and oxidizing acids.
They should be stored in a safety cabinet, and can also be stored with the chemicals in group seven (non-volatile liquid poisons). When it comes to group four, certain chemicals such as acetic anhydride and trichloroacetic anhydride which are extremely reactive should be stored completely separate.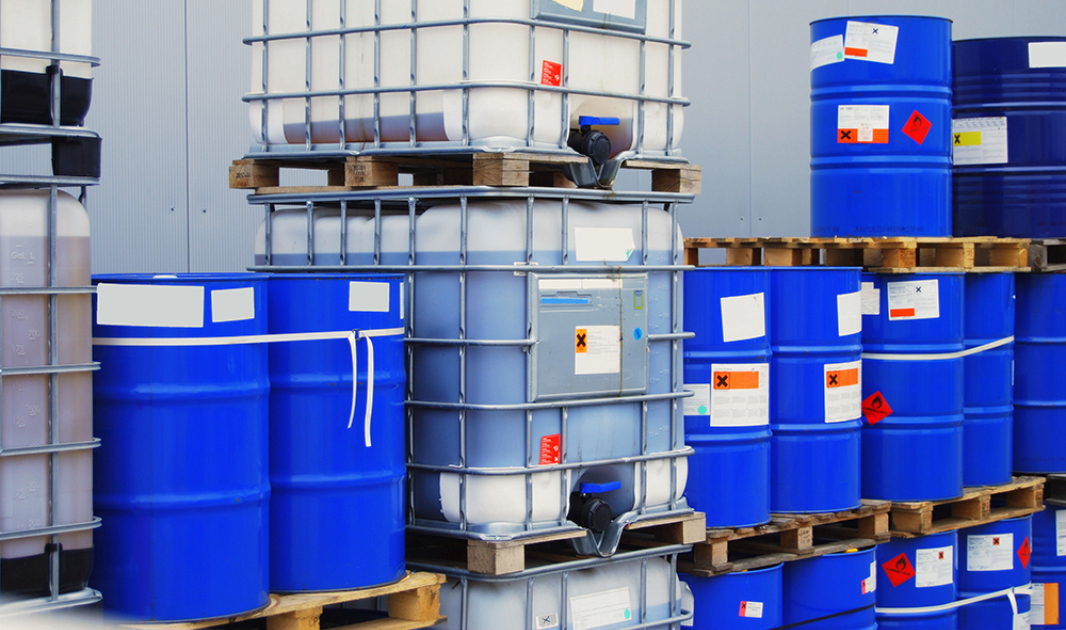 Group 5: Liquid Bases
Anything that has a lot of hydroxide ions can be considered a liquid base. Think sodium bicarbonate, for example. When storing liquid bases, you need to prevent contact with reactive acids. They can be stored in tubs or trays in a safety or normal cabinet. If volatile poisons are not present, liquid bases can be easily stored with group one.
Group 6: Liquid Oxidizers
These chemicals react with everything because they readily give off oxidizing substances. This makes for a disaster waiting to happen. In order to prevent a catastrophe, liquid oxidizers must be completely isolated from other substances, preferably in a refrigerated container. There are no compatible storage groups.
Group 7: Non-Volatile Poisons
This group includes a range of toxic chemicals, known and suspected carcinogens as well as mutagens. When storing these non-volatile poisons they should be kept separate from non-volatile liquid poisons. They also should NOT be stored on open shelves. Non-volatile liquids should be enclosed, and both should be stored in a refrigerator or cabinet. They should also be stored at bench level. Non-volatile poisons can be stored with organic and mineral acids with the exception of anhydrides.
Group 8: Metal Hydrides
Metal hydrides are considered to be pyrophoric. In other words, they may spontaneously ignite with air. They also react violently with water. This means they have to be separated from liquids and in most cases, air. Storage requires secure, double-containment that is also waterproof. As long as they are stored accordingly, they can share a storage area with group nine (dry solids).
Group 9: Dry Solids
Dry solids refer to all chemical powders, hazardous and non-hazardous. They should be stored away from all liquids to avoid potential reactions. Open shelves are okay as long as the dry solids are stored above liquids. Of course, the highly toxic powders with warning labels should be stored specifically in cabinets. The most hazardous of all powders should be completely separated from everything. With dry solids always adhere to the chemical safety information detailed on the labels.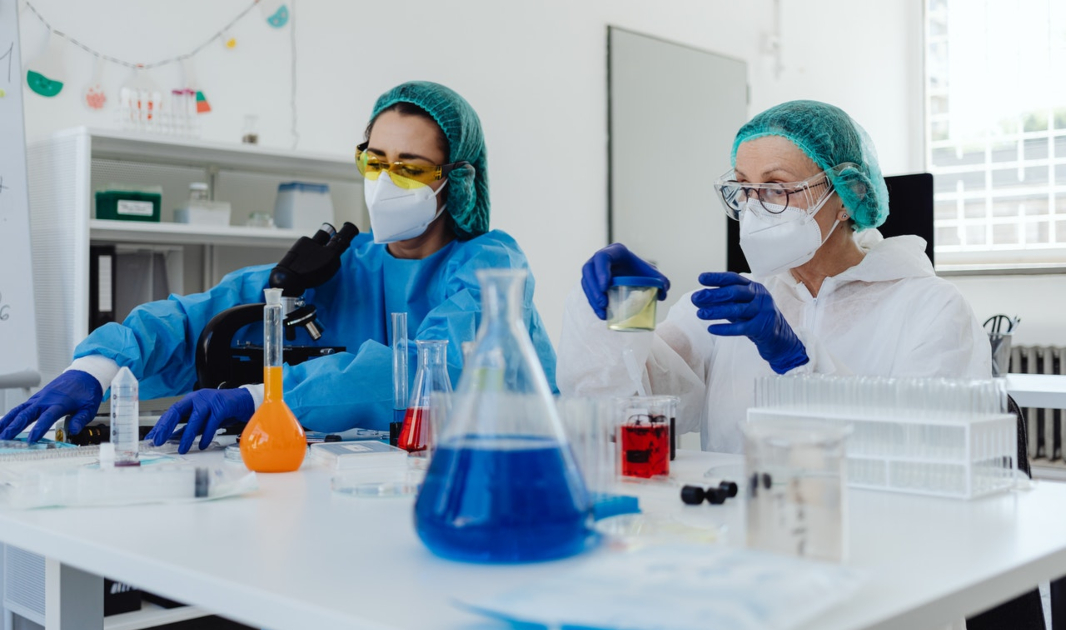 Laboratory employee checklist
Are all air vents in the lab free of blockages?
Use handling aids to minimise the risk of chemical spills.
Look for signs of leaks, wear and damage before every job.
Clean up leaks and spills immediately.
If you find any problem, get it fixed. Don't just carry on working.
Use, look after and store your PPE in accordance with instructions.
Throw away single-use gloves every time you take them off.
Wash your hands before and after eating, drinking or using the lavatory.
Leave your chemical management to Evolve
Your chemical storage safety is incredibly important, which is why you should rely on professionals to carry out your chemical storage plan. If you have chemical products that need blending or need to be packaged or stored, get in touch with us today.
Evolve is also a leading supplier of laboratory equipment, chemicals, and services used in scientific research, safety and healthcare. We supply an extensive range of laboratory chemicals and reagents to a wide range of laboratories. Find out more about our lab chemicals supplies. We can help with it all.
You might also be interested in
Be the first to hear our latest news, ideas and initiatives from Evolve
Scientific solutions for your next project
At Evolve, we've been supplying lab equipment, scientific products and supplies for hospitals, schools, clinics, coal mines, oil companies and other international customers for decades. We consider it our job to do far more than just take your order, we're here to help you. We listen, advise and solve problems.
Knowing that your time is precious, we also work fast – often being the only scientific supplier who can deliver what you need, when you need it.
At Evolve, we pride ourselves on the relationships we nurture and the consistent results we deliver. To find out how we can save you time and give you one less thing to worry about, visit our Support Centre page.