At Evolve, we're committed to customer service in every aspect of our business.
Whilst some aspects of this commitment are easy to see, such as our friendly customer service advisors, there are a multitude of roles across the business that might not be obviously customer-facing but have doing the right thing for our customers very much at their heart.
It's something that becomes apparent to everyone the moment they join Evolve, and only gets stronger as their career with us develops.
Our apprenticeships are a great example of this, and are designed to offer people a breadth of exposure by helping our customers directly, gaining experience and learning about the various products and services we offer.
Aaron Mifsud, above, first joined us as a Biomedical Engineering Apprentice, aged 16. He is due to complete a four-year degree course in Electronics ahead of joining Evolve on a full-time basis. We caught up with Aaron to find out more.
What attracted you to Evolve?
'After I left school, I decided to study at the Malta College of Arts, Science and Technology. As part of my course in Biomedical Engineering I needed to do an apprenticeship so I applied to Evolve as I heard they had a great reputation. They welcomed me, first as an intern, and then as as a full-time apprentice.
'The apprenticeship was a tremendous opportunity to gain access to my dream career. It allowed me to learn and gain real life experience at the same time as attending my weekly lectures at MCAST.'
What have you learned at Evolve?
'A lot! From the first day of my apprenticeship I was taught the importance of health and safety in the workplace as well as how to service scientific equipment and perform preventive maintenance.
'The most rewarding aspect so far has been speaking to customers after dealing with their requests and knowing that my work has really helped them and their business. It creates a great sense of satisfaction knowing that my actions have a real impact.'
What have you enjoyed the most?
'I was given the opportunity to install a purified water loop for a big customer. It took around two weeks from start to finish but I was passionate about the work because I love precision and cleanliness.
'Another project that I enjoyed was visiting some of Malta's historic sites where we carried out an intensive programme of environmental monitoring to help preserve the monuments for future generations. I was part of the Evolve team that performed monthly checks on the sensors and meters to make sure they were working properly. Some of the sites such as the Tarxien Temples date back to between 3600 and 1500 BC.
'Later, as part of my degree course, I designed and built an infusion pump, which is a medical device that delivers fluids into a patient's body in controlled amounts. They're used in hospitals and nursing homes. Evolve sponsored my work and I was proud to present my project at the Science In The City exhibition in Valletta.
'I'm now entering the final year of my degree course before I start a full-time job at Evolve. For me this is fantastic as I cannot wait to qualify and continue doing the work I've come to enjoy so much. It really has been the opportunity of a lifetime and I'm so glad I applied.'
Aaron is pictured below with his Evolve mentor Mark Bonello.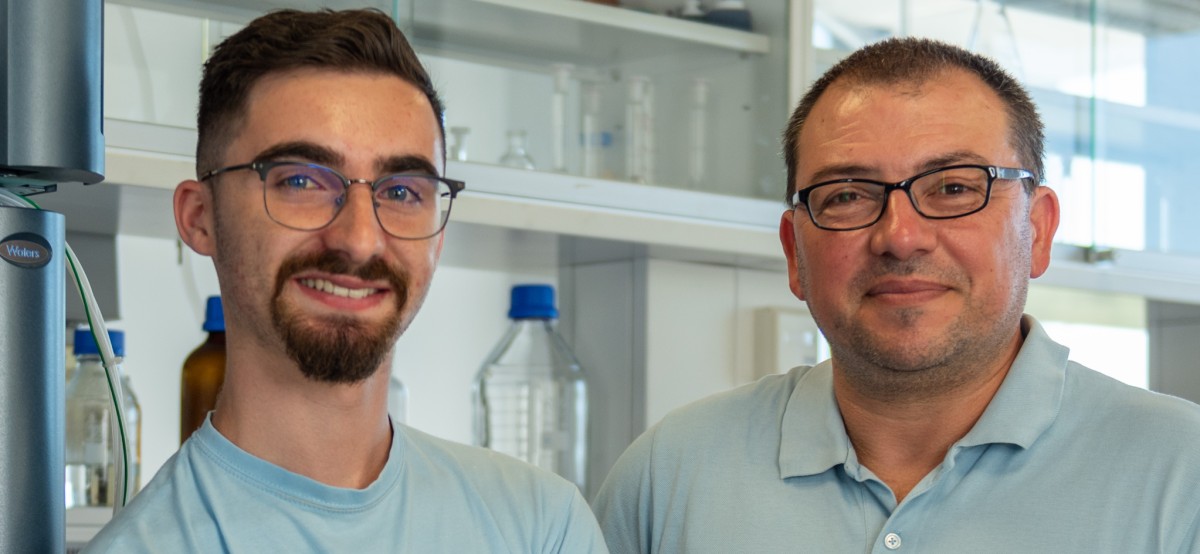 Good to know
Be the first to hear our latest news, ideas and initiatives from Evolve.
Anything else we can help with?
Evolve offers a comprehensive range of scientific products and services – shaped to suit your needs whether you work in pharmaceutical manufacturing, education, healthcare, semiconductor production, agriculture, medical cannabis, food science, environmental monitoring or police forensics.
To find out more about our full range of services, please, visit our Support Centre page.