Fume cupboards are used widely in laboratories and are designed to capture and remove air-borne hazardous substances generated during laboratory experiments, such as gases.
Work with substances that generate toxic or harmful fumes, vapours, gases, dust or chemical aerosols should be carried out in a fume cupboard to eliminate or reduce the risk of exposure to an acceptable and safe level.
Fume cupboards also serve as physical barriers between reactions and the laboratory, offering a measure of protection against inhalation exposure, chemical spills, run-away reactions and fires.
Maintaining the safety of your fume cupboard is vital to ensure both a safe and efficient working environment. Evolve's experienced engineers are regularly asked questions on how to keep a healthy fume cupboard and when to call for expert assistance.
There are two main elements to ensuring a safe fume cupboard: making sure your carbon filters are working efficiently and regular servicing from a professional Evolve engineer.
While there is no set life cycle for carbon filters, Evolve recommends they are replaced every year. We also carry out annual servicing and qualifications to confirm your equipment is safe and adheres to safety standards. This should be done at least once a year.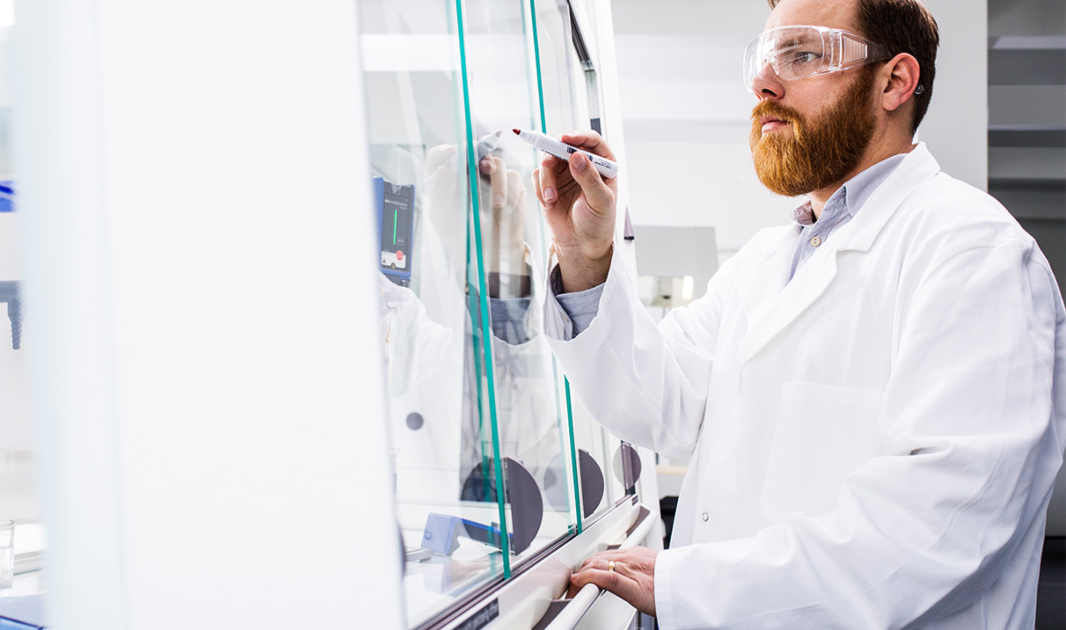 Dos and Don'ts
Your Fume Cupboard can be used for various different applications but there is some advice which applies to all fume cupboard users regardless of what methodology they are using.
Do keep chemical storage within the fume cupboard to a minimum
Do keep flammable chemicals in a dedicated fire rated storage cupboard
Do only use the fume cupboard for its intended purpose, for use with chemicals
Do always have the sash at the correct working height
Do keep lids on chemicals held within the fume cupboard when working and especially when the cabinet is switched off
Don't overfill the cabinet with apparatus or chemicals as this will affect the airflow and protection to users
A safe fume cupboard is a closed and ventilated fume cupboard. Therefore never switch off the fan if possible. To save on costs try and have variable speed motors calibrated with sash position.
Evolve expert view
Evolve offers a wide portfolio of clean air and containment solutions that facilitate drug development and manufacturing in the pharmaceutical sector.
From hospital pharmacies making up personalised oncology treatments, development laboratories pioneering new gene therapies or contract manufacturers tasked with producing medicines containing high potent APIs, fume cupboards supplied and installed by Evolve will deliver the clean air environment you need.
Evolve field engineer Lucas Spiteri said: 'Over the years, Evolve has supplied, installed and maintained dozens of fume cupboards and clean air cabinets as well as rigid and flexible isolators from the best names in science.
'We're delighted to work closely with the pharmaceutical and healthcare industries as well as research laboratories and universities. They all put their trust in us.'
For more information on how we can help your next science project, get in touch with the Evolve experts today. You'll be glad you did.
What else are you looking to do?
Stay up to date with the latest news, ideas and insights from Evolve
By your side with world class science support
At Evolve, we've been designing and supplying lab equipment, scientific products and supplies for hospitals, clinics, scientists and researchers for decades.
We consider it our job to do far more than just take your order, we're here to help. We listen, advise and solve problems.
Knowing that your time is precious, we also work fast – often being the only scientific supplier in Malta who can deliver what you need, when you need it. We pride ourselves on the great relationships we nurture and the consistent results we deliver.
To find out how we can save you time and give you one less thing to worry about, visit our Support Centre page.