One of the most important safety devices in a laboratory is the fume hood. It protects you and your team by containing and exhausting airborne hazards.
It does this by constantly pulling room air into the hood and exhausting it directly outside the building through fans located at the roof level.
At Evolve, we recommend that a fume hood should be used in the following situations:
When working with chemicals with significant inhalation hazards
When working with chemicals that have an offensive smell
When chemical vapors generated could cause a fire hazard if allowed to accumulate
When carrying out procedures that could explode or generate high pressure
Mark Bonello, Head Of Technical Services at Evolve, pictured above, said: 'Proper use of a fume hood will ensure the safety of you and those around you in the lab. Take proper measures when using a hood and avoid common mistakes.'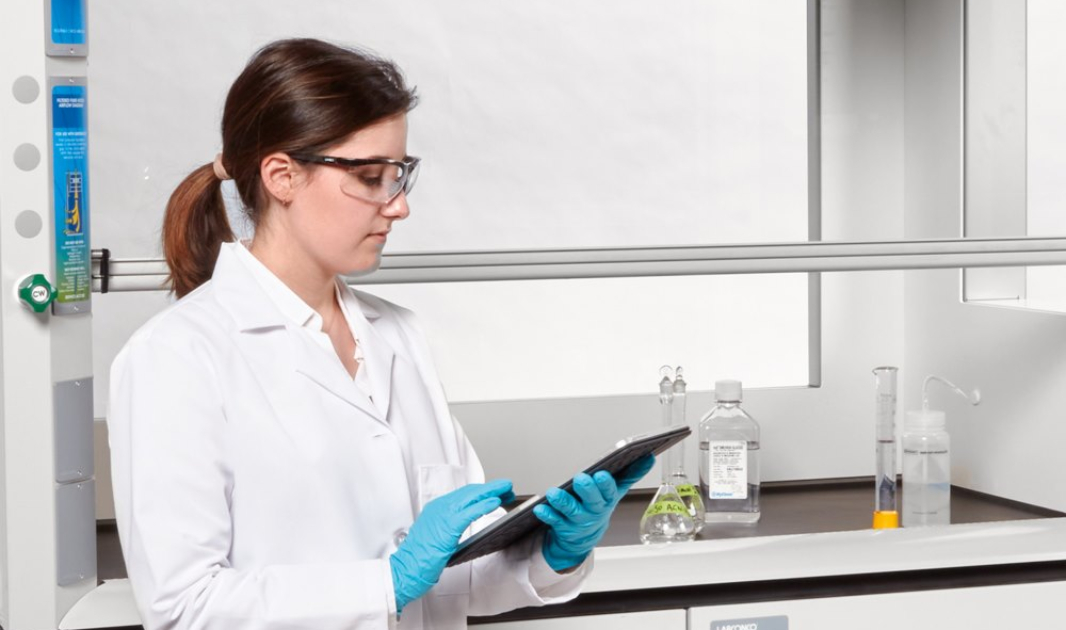 We recommend that you follow theses Evolve fume hood safety guidelines:
1. Don't store chemicals in the fume hood
Chemicals are extremely specific in the way they need to be stored. Storing chemicals in fume hoods may encourage people to store chemicals together that should always be kept separate. Chemicals stored in a fume hood could interact with other chemicals being used for experiments. Certain chemical interactions can be dangerous.
2. Make sure there are no airflow blockages
Having too many objects in a laboratory fume hood can obstruct airflow. Unnecessary objects, chemicals, or equipment also increase the risk of blocking proper airflow. Getting in the way of the fume hood's airflow can severely affect its long-term performance. This can result in downtime and the need for lab equipment repairs.
3. Don't linger too close to the hood
When working on anything in the lab, it's important to maintain a safe distance from the fume hood's face. Chemicals, tools, PPE and other essentials must be taken into consideration when applying this policy.
4. Don't raise the sash too high
A fume hood sash works as a blast shield to provide protection in the event of a fire. When using a fume hood, the sash should always be pulled down in front of the user's face to protect the breathing zone. The lower the sash height, the more safety it will provide.
Laboratory Solutions from Evolve
We are happy to discuss what proper laboratory storage solutions fit your needs best, keeping your laboratory team safe.
Contact the Evolve experts today to get started. Call us on +356 2248 9900 or email info@evolveltd.eu. You'll be glad you did.
More brilliant ideas to inspire you
Headlines, hot topics, and more from Evolve
What can Evolve do for you?
However big or small your business, we could make life easier.
Our specialists have all the skills needed to allow your new science laboratory project to thrive. From initial design, supply and installation of furniture to providing all associated building services, Evolve has the in-house expertise to deliver on time and within budget.
We can help you determine the best way to make use of your available space while prioritising safety, space, and accessibility.
Evolve has supplied and fitted lab furniture and accessories to a range of companies and institutions over the years. Major projects in recent years include:
Brewing giant Farsons
Dubai Police forensic science laboratories
Semiconductor firm ST Microelectronics
Pharma companies Aurobindo, Actavis and Pharmacare
European Commission science laboratories in Brussels
Montekristo Wine Estates
Environment services agency Wasteserv
Malta's state-run public health laboratory
We also offer a range of additional services, including fume management, network cabling, electricity distribution and testing, plumbing and testing both for water and gases as well as all drains and speciality gases.
We're ready to be by your side to help you design, equip and maintain a fully EU-compliant lab for your next project. For a complete, professionally-delivered project from initial design through to completion, get in touch with Evolve today.