At Evolve, we champion potential, in good times and in bad, to help the scientists, medical technicians, institutions and businesses we serve to recover, rebuild and, ultimately, to thrive.
We are proud to be part of a new Malta-Ghana initiative, helping to promote potential business opportunities for Maltese companies in West Africa.
If you're not trading outside the EU and you could, Ghana wants to hear from you. A multicultural nation, it has a population of 27million and is the ninth largest economy on the African continent.
It has huge reserves of oil and natural gas, is one of the world's largest gold and diamond producers and is reckoned to be the largest producer of cocoa in the world.
Ghana is a young nation with big ambition. More than 93% of young people are now attending primary school and there has been an impressive growth in the number of students attending universities at home and abroad. We heard about the investment in high speed broadband and 4G and the vision that they have for developing agriculture technology and renewable energy.
The government of Ghana recognises the innovation and expertise we have in Malta and it wants us to work with them to improve their nation.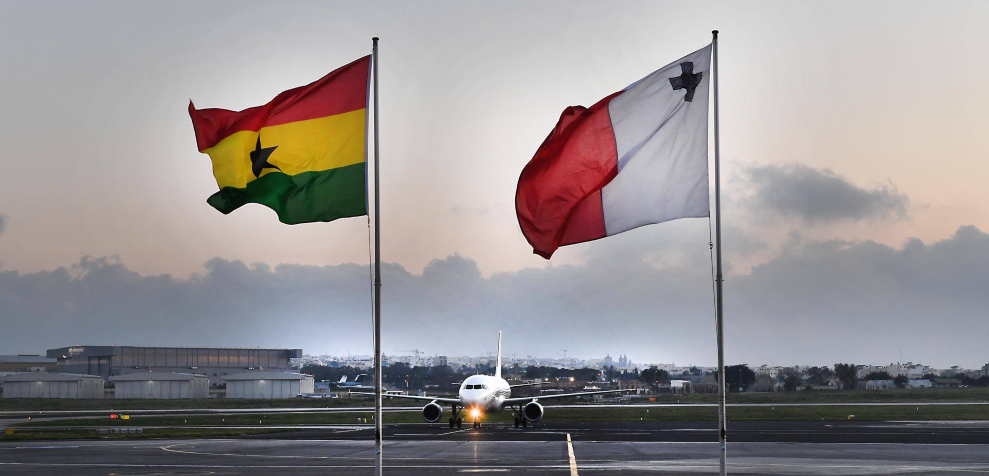 Evolve already has a wealth of experience in Ghana after partnering with Ghanaian firms in the healthcare, pharmaceutical and industrial sectors.
Managing director Christopher Busuttil Delbridge said: 'Our experience tells us that business people in Ghana are keen to engage internationally with innovative and entrepreneurial companies which will help them grow and develop.
'At all the trade missions and business summits we have attended, Ghanaian delegates have been impressed by the sheer capability and passion of Maltese companies thanks to our skilled workforce and our shared tradition and values as members of the Commonwealth.
'Maltese companies have always been outward looking and have an excellent track record overseas.'
The webinars were organised by Evolve, business strategist Nadia Pace and Weave Consulting founder Dr Roberta Lepre, with support from Trade Malta.
1. Emerging opportunities
Ghana's High Commissioner to Malta, Mercy Bampo Addo, and Jean Claude Galea Mallia, Malta's High Commissioner to Ghana, took part in the first webinar to discuss the good news that Ghana wants to do business with Malta.
2. Two-way investment stream
Yofi Grant, the chief executive of the Ghana Investment Promotion Centre, and Kurt Farrugia, the chief executive of Malta Enterprise, joined the online meeting to discuss collaboration and trade opportunities between both countries.
3. Exciting trade opportunities
Dr Afua Asabea Asare, the chief executive of the Ghana Exports Authority, and Anton Buttigieg, the chief executive of Trade Malta, join the discussion to highlight a number of trade opportunities between both nations.
4. Intelligent software solutions
Albert Barnafo, the manging partner of T3 Data in Accra, and Stephen Abela, the director of Malta-based On Point Ltd, discuss their experiences of working together on data integration and software solutions.
5. Changing commercial landscapes
Celestino Alvarez-Neira, the president of the European Business Organisation in Ghana, and David Xuereb, the former president of the Malta Chamber of Commerce, discuss how businesses can navigate changing commercial landscapes in the two countries.
6. Aviation opportunities
Edward Annan, the founder of Accra-based Passion Air, and Daniel Galea the vice-president of operations at SR Technics Malta, join the discussion on business opportunities and challenges in the aviation industry.
7. Internationalisation
Herbert Friese, the General Manager at Dutch & Co Ltd, and Matthew Spiteri the managing director at Altern Ltd, discuss how companies need an innovative corporate culture for internationalisation. This can save work, build knowledge and motivate employees.
8. Quality standards and certification
Professor Alex Dodoo, the director-general of the Ghana Standards Authority, and Helga Pizzuto, the chairperson of the Malta Competition and Consumer Affairs Authority, discuss collaborations to ensure that business materials, products, processes, and services are fit for purpose.
Good to know
Be the first to hear our latest news, ideas and initiatives from the team at Evolve
We're here to support you
Evolve is Malta's fastest growing science company for new lab supplies, laboratory design and specialist scientific and medical equipment.
Our international customers include major pharmaceutical companies, hospitals, universities and public laboratories.
If you'd like to speak to one of our expert team members on how Evolve can help your next project, please get in touch with us today.