A lab coat is important to wear in a laboratory because it protects the scientist, sample, and lab from damage and contamination.
Here are some of the reasons why ensuring lab coat safety is essential:
BARRIER PROTECTION – A lab coat provides substantial barrier protection and shields your torso and arms from direct contact with hazardous substances in the laboratory.
PROTECTIVE MATERIAL – A good lab coat is semi-fire-retardant – The ideal material for a lab coat is 35/65 polycotton (35% polyester and 65% cotton). Polyester offers chemical resistance and ease of maintenance whilst cotton offers semi-fire-retardant properties.
PREVENTS CROSS CONTAMINATION – A lab coat prevents cross-contamination – keeping your lab coat on in the lab will retain contamination within your laboratory and will reduce or prevent cross-contamination in other areas.
FAST REMOVAL – A lab coat can be removed quickly in an emergency – If a fire or dangerous spill occurs, your lab coat (especially if it has press studs) can be pulled off in a matter of seconds to immediately bring distance between you and the hazard.
PROFESSIONALISE YOUR LOOK – A good clean lab coat indicates professionalism and distinguishes a laboratory individual as a specialist in their field.
SAFER WORKSPACE – A lab coat with an elastic cuff will assist with keeping your sleeves out of your experiment and keep you in control of your workspace. It will also protect your arms from potential hazardous splashes.
CLOTHING PROTECTION – A lab coat is worn to protect clothing in lab, as it will protect your regular clothing from dust, dirt, and non-obvious contamination.
COMPLIANCE WITH SAFETY STANDARDS – Wearing a lab coat is often a requirement in laboratory settings. By wearing your lab coat, you will avoid unwanted attention from safety personnel, who may ask if you adhere to safety standards.
PROTECTION FROM BIOHAZARDS – Lab coats can also protect individuals from exposure to biohazards, such as infectious agents, that may be present in the laboratory.
MINIMISATION OF SKIN IRRITATION – Wearing a lab coat can help minimize skin irritation that may occur when working with certain chemicals or substances. This is because the coat provides a barrier between the skin and the hazardous material.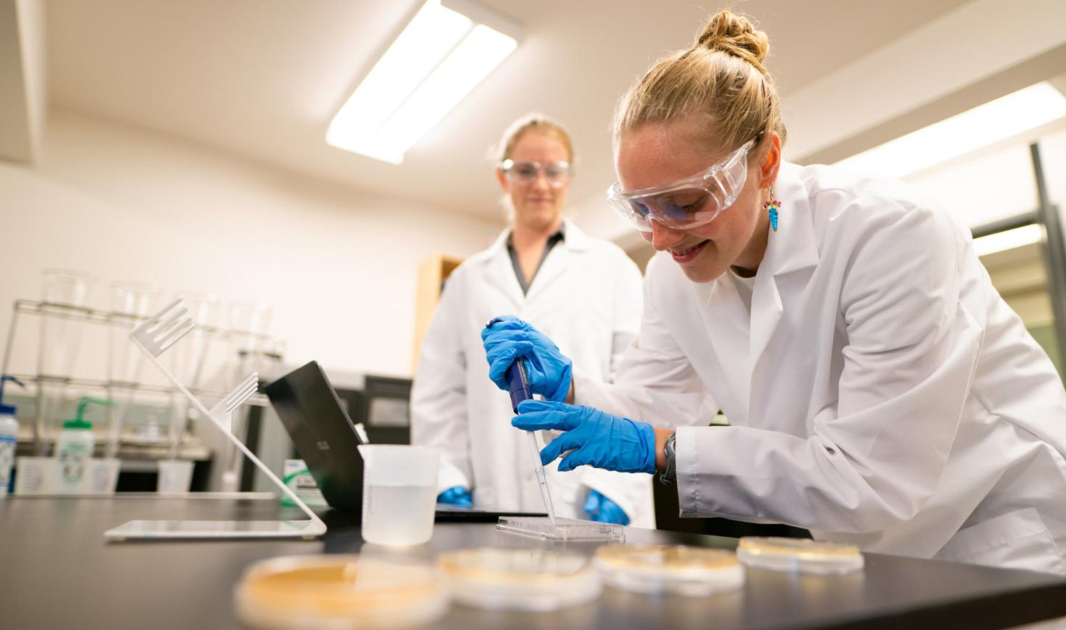 FAQs
Q. How should a lab coat fit?
The lab coats should extend to mid-thigh and fasten close to the collar to ensure optimal protection. In addition, lab coats should be worn fully buttoned or snapped with sleeves down to provide complete coverage and protection.
Q. Is it okay to wear a lab coat outside?
It is against the lab coat safety protocols to wear lab coats in public areas such as lounges, offices, or eating areas. Lab coats should never be worn outside the lab because they may carry hazardous materials and contaminants that can be transferred to these areas, potentially exposing the general public to these substances.
Q. What is the difference between a lab coat and a lab jacket?
Lab coats are longer and offer more coverage and protection than lab jackets, which are typically shorter and end around the waist. Lab coats are better suited for applications that require more excellent protection, such as when handling hazardous chemicals or materials. Conversely, lab jackets may be more appropriate for less dangerous applications, as they provide adequate protection while allowing for greater freedom of movement.
With our team of experts, you can chat to us about science products and planning for your business sector, and tap in to our knowledge.
For assistance, call us on +356 2248 9900 or email info@evolveltd.eu
What else are you looking to do?
Something else we can help you with?
Evolve's commitment to you
Evolve helps medics, researchers, technicians and scientists increase efficiency and productivity every day. We are a leading supplier of laboratory equipment and analytical instruments for scientific, R&D, educational and medical laboratories in Malta, Europe and beyond. We back all our lab equipment products with unbiased technical assistance to help you solve your application needs.
At Evolve, we always…
Put our customers first – We dedicate our energy and efforts to sourcing great quality products and exceeding customer service expectations.
Act with integrity – We build relationships based on honesty, trust and transparency with our customers, colleagues and the communities we serve.
Strive for simplicity – We believe that simplicity lowers costs for our customers, increases efficiencies and makes life easier for everyone.
Enjoy what we do – We work hard, try our best, share and celebrate success and love what we do. It makes our lives better and results in better customer service.