Whether you're setting up a high school chemistry classroom or building a medical research facility, it's crucial to plan and design your laboratory layout with careful consideration. Not only do science labs have to meet certain safety and accessibility standards, but they also should be designed to meet the specific needs of the type of lab in question.
The best laboratory design will keep people safe while also maximizing efficiency and anticipating a wide variety of scientific procedures and processes. Even if you're designing a lab for a singular purpose, such as medical cannabis production, you'll want to consider equipment features that could take your business to the next level.
At Evolve, we offer state-of-the-art laboratory equipment, design consultancy and much more. No matter what type of lab you're planning, we're here to help.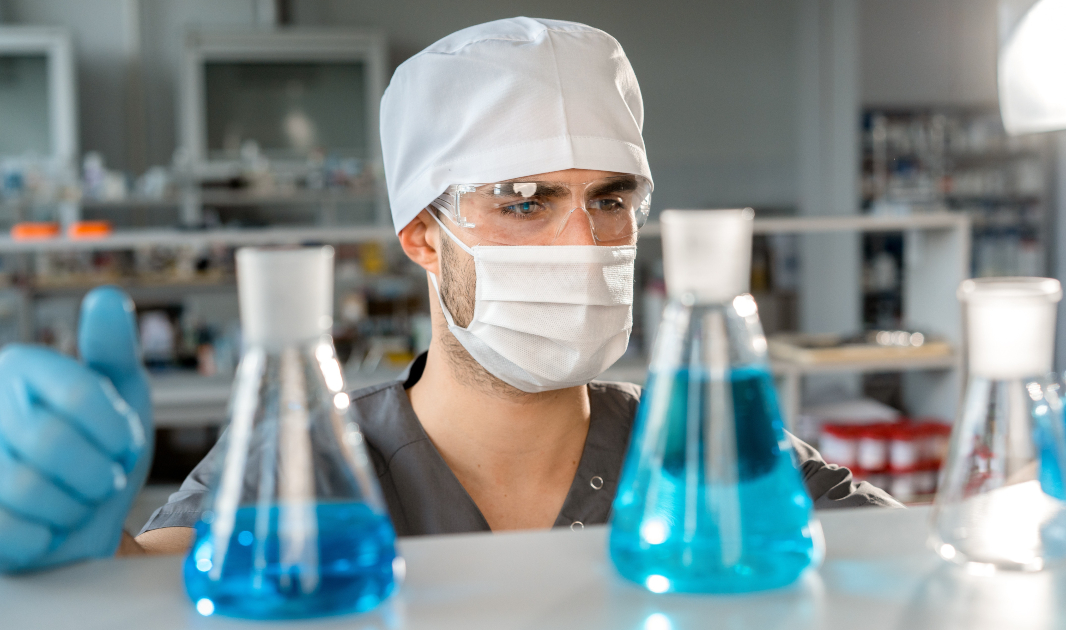 4 things to consider when designing a laboratory
1. Space for Work and Equipment
The first thing you want to consider when designing a laboratory is space. Are you building a new facility from the ground up? Are you renovating an existing space? Do you have lots of room to work with, or do you need to get creative with your space's limitations?
When designing a lab, it's important to account for your workers as well as your equipment. Make sure people have enough room to work safely. Create a laboratory floor plan with clear traffic flows toward emergency exits. If you have mobile equipment, make sure your paths are large enough to accommodate it. Leave space in other areas of your lab so your mobile equipment has multiple places to reside without blocking walkways or doorways.
Remember to account for storage needs as well as workstations. When equipment is not in use, where will you safely store it? Don't take shortcuts by storing equipment in places where it shouldn't be.
2. Proper Ventilation Systems
Proper ventilation is important in any science lab, but it's particularly important if your work will produce harmful or toxic fumes. A fume hood can protect your team from breathing in dangerous gases. Ducted fume hoods attach to standard HVAC systems and exhaust harmful fumes outside of the building. This ensures that no dangerous fumes escape into the laboratory.
Ductless fume hoods, also known as portable fume hoods, use specific filters to remove toxic fumes from the air. The filtered air is then released back into the lab. Make sure to incorporate fume hoods into your lab design if you plan on doing work that produces harmful fumes.
3. Proper Plumbing, Gas, and Electrical Fixtures
Every lab needs standard lab benches, also known as workstations or utility tables. These basic models can be easily customized with many useful features, including plumbing fixtures, gas lines, electrical outlets, and burners.
When designing your lab, you'll want to determine where the electrical outlets, gas lines, and plumbing fixtures will be, and include laboratory casework to make use of those features. Our team of experts at Evole has worked with many companies to create custom workstations that incorporate these fixtures.
4. Safety and Accessibility
Safety and accessibility features can and should be intentionally incorporated into your laboratory design, not added on later as an afterthought. Look for laboratory casework that meets certain industry standards. This means finding companies with the right safety certifications.
Accessibility is an important part of any science lab. Walkways should be wide enough for wheelchairs, and fume hoods should be safe to use for people of all heights. Include accessible signage and safety messaging. Make sure that any alarm systems are not just sight-based or sound-based, but both.
At Evolve, we can help you design an EU-compliant science lab.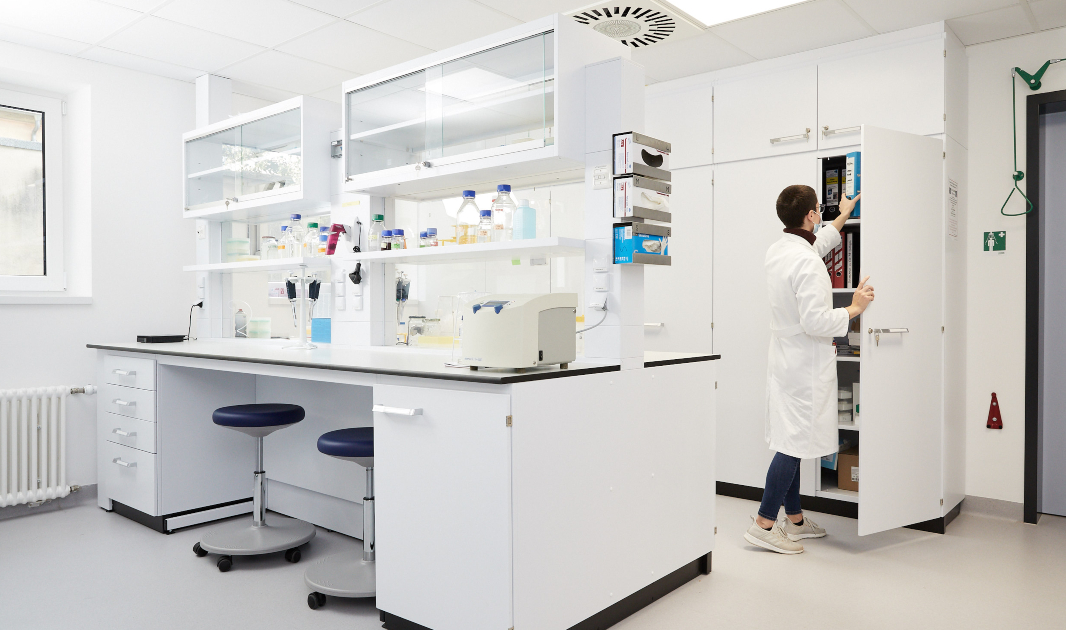 Design ideas for different labs
The type of lab you're planning will influence its layout and design. Different types of labs require different design features. However, all labs need to prioritise space, safety, and accessibility.
Over the years, Evolve has designed a number of various types of labs including:
Biology labs
Chemistry labs
Pathology labs
Medical Cannabis labs
Medical research labs
Manufacturing labs
More brilliant ideas to inspire you
Headlines, hot topics, and more from Evolve
What can we do for your business?
However big or small your business, we could make life easier.
Our specialists have all the skills needed to allow your new science laboratory project to thrive. From initial design, supply and installation of furniture to providing all associated building services, Evolve has the in-house expertise to deliver on time and within budget.
We can help you determine the best way to make use of your available space while prioritising safety, space, and accessibility.
Evolve has supplied and fitted lab furniture and accessories to a range of companies and institutions over the years. Major projects in recent years include:
Brewing giant Farsons
Dubai Police forensic science laboratories
Semiconductor firm ST Microelectronics
Pharma companies Aurobindo, Actavis and Pharmacare
European Commission science laboratories in Brussels
Montekristo Wine Estates
Environment services agency Wasteserv
Malta's state-run public health laboratory
We also offer a range of additional services, including fume management, network cabling, electricity distribution and testing, plumbing and testing both for water and gases as well as all drains and speciality gases.
We're ready to be by your side to help you design, equip and maintain a fully EU-compliant lab for your next project. For a complete, professionally-delivered project from initial design through to completion, get in touch with Evolve today.