Lighting your laboratory properly is essential. The right light acts as a regulator for your internal body clock, and helps you to stay energised and alert. This makes it important to ensure that all laboratories, whether research, industrial or school, receive good levels of light.
The vast majority of labs we serve adopt carefully-designed lighting plans to help deliver demanding tasks such as sampling and analysis. Here, we take a closer look at the reasons why lighting is a hugely important part of laboratory refurbishments and builds:
Identifying hazards
A clear and well-lit science laboratory can help minimise the risk of mistakes being made during practical experiments. Making it easier to clearly read and follow instructions and complete every step of the research – it is more likely that accurate and repeatable results will be reached when experimenting in a well-lit and clear laboratory.
Boosting results
Similarly, it is easier to accurately read results in a room that is well-lit. This is particularly true when looking for subtle changes in colouration or slight variations in pattern. It is totally redundant to complete research if the results are difficult to decipher and cannot be used to further understand the scientific implications. Visually demanding laboratory tasks require some of the highest recommended light levels in buildings. General lighting for laboratories should have an illumination level of 500 lux, however, this requires low-glare and shadow-free lighting conditions.
Improving communication
Dialogue is hugely important in the science laboratory, accommodating clear lines of communication, the sharing of ideas and instructions. A poorly-lit science laboratory can be a dangerous place with potentially unseen hazards. Unless an experiment is sensitive to light, it is important that all practical lessons are completed with appropriate levels of light.
Cutting costs
Upgrading to LED lights is a smart technique to cut down your costs and save money as these lights last longer and use less energy. LEDs use up to 80% less power compared to halogen light bulbs. While LED lights can last for up to 50,000 hours, standard halogen lights typically stay for 4,000 hours. There is a wide variety of brightness options to choose from. Investing in good quality LED lights will offer you higher returns in the long run.
Increasing productivity
One survey conducted by the American Society of Interior Design established that about 68% of employees complained about poor lighting choices in their workspaces. Whether your lighting is too bright or too dull, that can upset the comfort of your laboratory staff. Lighting structures that are too harsh or bright adversely impact work efficiency. For example, intense and bright lights such as fluorescent tubes can cause migraines and eye strain. Similarly, dim lighting may induce drowsiness in workers, which will hinder productivity. Lab technicians will find it hard to maintain their focus if the lighting conditions are not conducive. With these concerns in mind, employers are encouraged to find ways to improve lighting in their workplaces. After all, a happy and motivated team member is good for science success.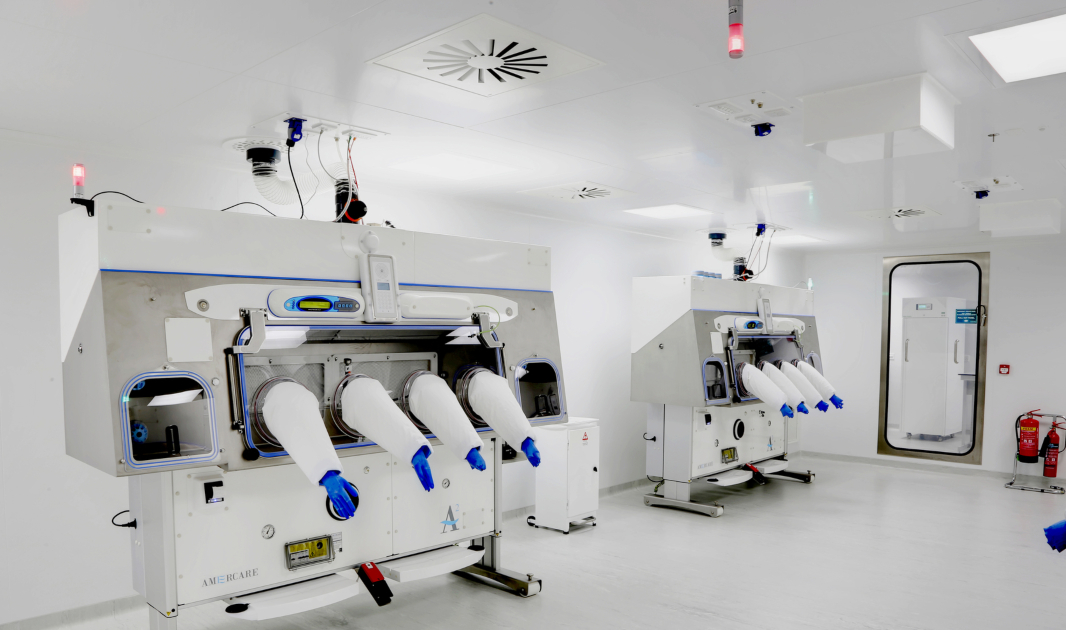 How Evolve can help
Evolve can help you create science laboratories with effective lighting. Whether you want to create a laboratory which benefits from high levels of natural light or need to implement artificial and controlled light options, our experienced team of technicans and lab designers can accommodate all requirements.
For more information call us on: +356 2248 9900 or email info@evolveltd.eu.
More brilliant ideas to inspire you
Headlines, hot topics, and more from Evolve
What can we do for your business?
However big or small your business, we could make life easier. Our specialists have all the skills needed to allow your new science laboratory project to thrive.
From initial design, supply and installation of furniture to providing all associated building services, Evolve has the in-house expertise to deliver on time and within budget. We can help you determine the best way to make use of your available space while prioritising safety, space, and accessibility.
Evolve has supplied and fitted lab furniture and accessories to a range of companies and institutions over the years. Major projects in recent years include:
Brewing giant Farsons
Dubai Police forensic science laboratories
Semiconductor firm ST Microelectronics
Pharma companies Aurobindo, Actavis and Pharmacare
Malta's Mater De Hospital
Lab furniture installations in Greece
State-of-the-art retinal camera systems installed in health centres in Malta
European Commission science laboratories in Brussels
Montekristo Wine Estates
Environment services agency Wasteserv
Malta's state-run public health laboratory
We also offer a range of additional services, including fume management, network cabling, electricity distribution and testing, plumbing and testing both for water and gases as well as all drains and speciality gases.
We're ready to be by your side to help you design, equip and maintain a fully EU-compliant lab for your next project. For a complete, professionally-delivered project from initial design through to completion, get in touch with Evolve today.