Evolve supplies water baths to a wide range of scientific laboratories, as well as hospitals, clinics, schools and universities. They are versatile and helpful tools to have on hand.
The following Evolve guide will help you understand what a water bath is and how to use one properly, guiding you on everything you need to know about this vital lab tool.
What is a lab water bath?
A lab water bath is a heated water container. They are used to incubate samples and keep them warm. Water baths are a common feature in laboratories and can be used to heat a variety of devices. The temperature of the bath is kept constant by the circulation of the water. They can also be used to cool or keep items at a lower temperature for stability while working with them. One of the most common lower temperature is at 15oC.
Why do labs use water baths?
They are often used in laboratories to heat flammable compounds that may ignite if exposed to an open flame, as well as to maintain cell lines. To maintain the temperature constant, a circulating water bath keeps the sample in motion while heating. Samples needing heating above 100°C will need to be heated in an oil, sand, or silicone bath.
Proper use of a water bath
To make a lab water bath, fill the container with distilled water to the required level. Then turn on the water bath and set the temperature on the controller. Wait until the water reaches the desired temperature. The thermometer can measure water temperature. Once it reaches the desired temperature, the water bath can be used.
Assure a dry and clean environment
Reconnect the electricity
Assemble the water level to cover the heating element
In the water bath, set the thermostat to the desired temperature and wait for it to reach it
Insert samples carefully when heating. The sensor will keep the temperature constant
Removing the samples and turning off the water bath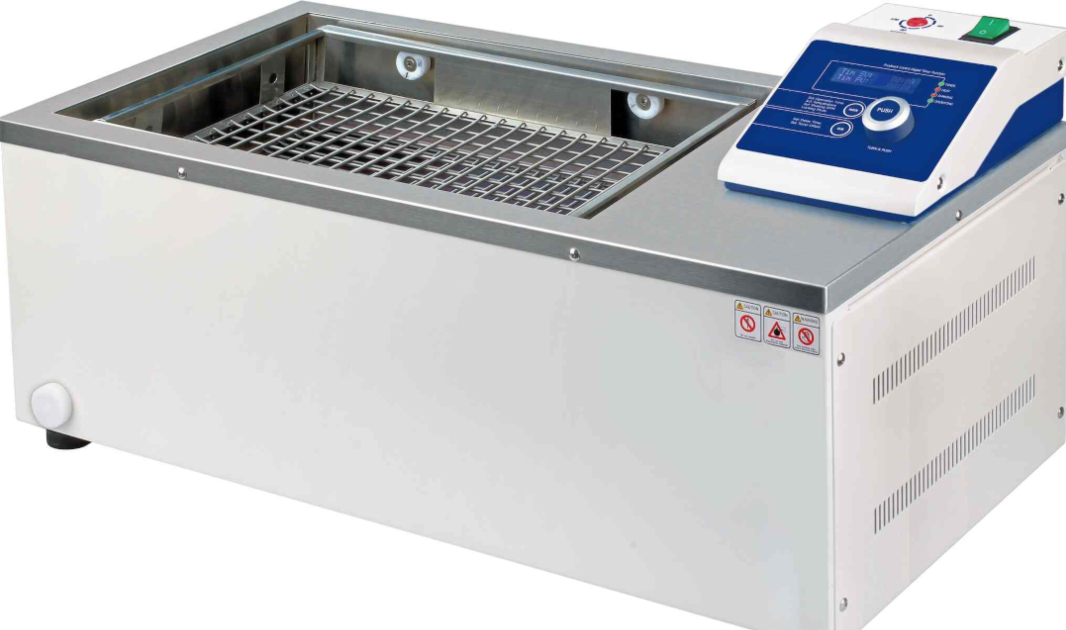 How to clean a water bath
Any sort of water bath requires regular maintenance to ensure a long life. First, you must evaluate the water source. Using distilled water is ideal because tap water can include minerals.
Second, empty the water bath often to maintain it clean. You must periodically clean this equipment. Turn off the water bath and remove the container to clean it. Wipe the seal clean of debris and avoid getting water into the machine, which can harm electrical components. Water baths should only be cleaned with a moist cloth and mild detergent.
Types of laboratory water bath
Refrigerated Circulators
Circulators Heaters
Polycarbonate
Shakers
Digital/Analogue
Evolve expert view
Mark Bonello, Head Of Technical Services at Evolve, said: 'When using a water bath, contamination prevention is essential. Regularly draining and replacing the fluid in the water bath is a key way to avoid contamination.
'Whether the water bath has a drain built in, and whether the drain is a simple valve that can be easily opened or requires a screwdriver to open, can make a big difference for the user.
'Additional features that make a water bath easier to use include digital controls, integrated timers, and the ability to operate in both Fahrenheit and Celsius.'
With our team of experts, you can chat to us about science products and planning for your business sector, and tap in to our knowledge.
For assistance in choosing the right water bath for your lab, call us on +356 2248 9900 or email info@evolveltd.eu
What can we do for your business?
However big or small your science project, we make lab life easier
By your side with world class service
At Evolve, we've been designing and supplying lab equipment, scientific products and supplies for hospitals, clinics, scientists and researchers for decades.
We consider it our job to do far more than just take your order, we're here to help. We listen, advise and solve problems.
Knowing that your time is precious, we also work fast – often being the only scientific supplier in Malta who can deliver what you need, when you need it. We pride ourselves on the great relationships we nurture and the consistent results we deliver.
To find out how we can save you time and give you one less thing to worry about, visit our Support Centre page.